The weather was hellish a week back and a lot of people is uploading videos to YouTube to prove it. I'm just putting up a few in this post:
This one shows one of the crown jewels of the current local government, the Via Rapida, turning into a canal:
This other one is a collage of pictures:
Oh yeah, Don't forget the sports fields on the Tijuana River canal!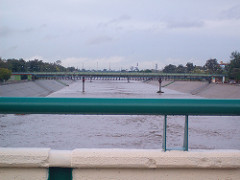 I only see lots of dirty brownish water running in there.
Pues anda cabrón el clima últimamente y mucha gente anda subiendo videos a YouTube para demostrarlo. Aquí solo les pongo algunos de los vídeos mas llamativos:
Este muestra una de las joyas del gobierno actual, la recién renovada Vía Rápida, siendo devorada por las aguas:
Este otro es un collage de fotos:
Ah si, no se les olviden las famosas canchas!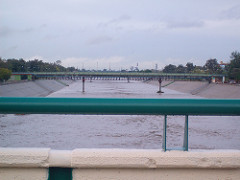 Yo nomas veo harta agua mugrienta corriendo por ese cauce.