I recently got one of these and ran into issues when attempting to load the Windows 10 installer. Plugged power, VGA, keyboard and then turned the thing on. BIOS prompt popped up and nothing fancy, just your usual UEFI BIOS that makes everything pretty and a pain in the ass to get to.
All the people writing these things clearly hate using their keyboards. But anyway; made some changes in the BIOS and everything seemed to be okay.
Cue the Windows 10 installation. Got out the USB stick with the Windows installer, plugged it in, booted. I could tell everything was much, much slower than usual. Just getting to the "Install" button took about six minutes.
Thinking it was the USB stick, I switched to a USB 3.0 stick. Same issue.
Switched ports around (not that this could be a problem, the thing only has USB 3.0 ports). Nope.
Could it be a bad CPU? But then it wouldn't turn on. Ditto for RAM.
Maybe the SSD drive I put on it is not working properly? But this is before the drive even comes into play and the UEFI system detects it properly.
Start poking around the UEFI again:
There was a setting for "Customer IR" I enabled. Disabled it.
Boot options: Disabled UEFI boot. Good old BIOS will do.
Set VGA as the main video port, HDMI secondary.
Disabled Intel Secure Boot and all its toys. They're not needed and can only cause trouble.
There is a setting where you can configure the UEFI for different operating systems:

Windows 8 / Windows 8.1
Windows 7
Linux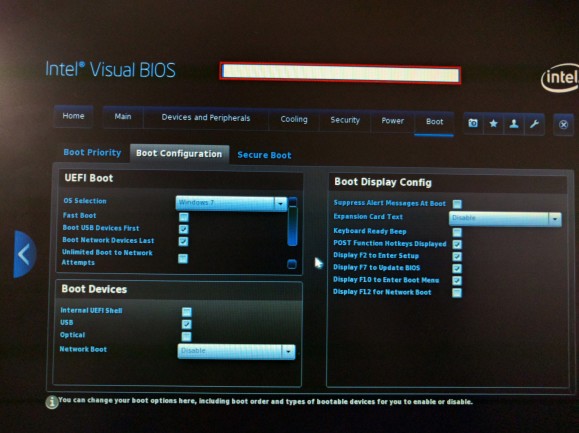 Since I was installing Windows 10, I picked the first option. I think this is was made the Win10 installation go awry. Set it to Windows 10, rebooted, and OS installation went off without a hitch.
The only problem after that was the SSD having disk errors, argh.